Veal Marsala
4 servings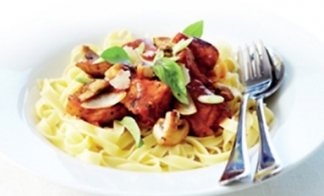 INGREDIENTS:
8 veal cutlets, 60 g each
45 ml (3 tbsp) butter
45 ml (3 tbsp) olive oil
60 ml (3 tbsp) Marsala wine
250 ml (1 cup) Rose Hill demi-glace
10 ml (2 tsp) butter
White flour
Salt & pepper, to taste



METHOD:

1. Season cutlets with salt and pepper, and lightly dredge in flour.

2. Heat butter and oil in a frying pan and sauté veal cutlets on each side until golden. Remove from heat and set aside.

3. In the same pan, add Marsala wine and Rose Hill Demi-Glace. Reduce to desired consistency.

4. Remove from heat and add butter.

5. Serve with fettuccine in a cream sauce and vegetables.