Pilon chicken grilled to jerk
4 servings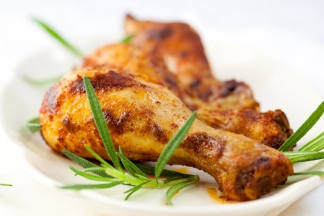 INGREDIENTS:
16 pieces of chiken Pilon
3 tablespoons of Rose Hill Jerk Seasonning
3 tablespoons of olive oil
3 tablespoons of brown rhum (optional)
Brine
2 liters of water
1/2 cup of coarse salt
1/2 cup of brown sugar
1 tablespoon of garlic powder
1 tablespoon of garlic powder onion powder
Method: mix all ingredients and bring to boil and cool. To cool quickly, use only 1 liter of boiling water and then add 1 litter of water or 1 kilo of ice.
METHOD:
1. Marinate chicken pilon in brine for about two hours. Remove, drain well and place in a Ziploc style bag, add Rose Hill Jerk Seasoning and also olive oil. Marinate for at least 2 hours.
2. Grilled on BBQ, without burning the pilons.
Serve with: Sour cream with lime, roasted corn and steamed rice.