Onion Soup
4 servings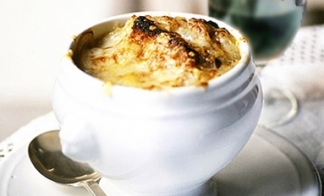 INGREDIENTS:
60 ml (1⁄4 cup) butter
3 Spanish onions thinly sliced
5 ml (1 tsp) white sugar
15 ml (1 tbsp) all-purpose flour
875 ml (3-1/2 cups) water
125 ml (1⁄2 cup) white wine
30 ml (2 tbsp) Rose Hill beef bouillon mix
1 French baguette
225 g (8 oz.) Swiss cheese sliced



METHOD:

1. Melt butter or margarine in a 4.5-litre (4 quart) saucepan. Stir in sugar. Cook onions over medium heat for 10 minutes, or until golden brown.

2. Stir in flour until well blended with the onions and pan juices. Add water, wine, and diluted Rose Hill beef soup; heat to boiling. Reduce heat to low. Cover soup, and simmer for 10 minutes.

3. Cut 8 slices of bread from the loaf 2.5 cm (1 in.) thick. Toast the bread slices at 165 °C (325 °F) just until browned, about 10 minutes. Reserve the remaining bread to serve with the soup.

4. Ladle soup into four 340 ml (12 fl. oz.), oven-safe bowls. Place 1 slice toasted bread on top of the soup in each bowl. Fold Swiss cheese slices, and fit onto toasted bread slices. Place soup bowls on a cookie sheet for easier handling.

5. Bake at 220 °C (425 °F) for 10 minutes, or until cheese is melted.