European Fish Soup
4 servings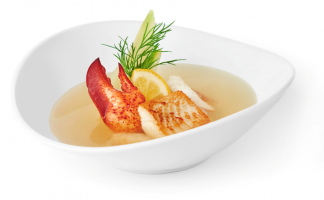 INGREDIENTS:
1 liter of Rose Hill European fish broth
250 ml tomatos coulis
125 ml white wine
1 spanish onions cut into small cubes
1 red pepper cut in strips
1 sliced fennel bulb
3 chopped garlic cloves
1 pinch of spanish saffron
1/2 tea spoon of anis seed
1/2tea spoon of Whole thyme
1 tablespoon sugar
1 pinch cayenne pepper
62.5 mil (1/2 cup) olive oil
4 (filets) cod fillet cut into portions
20 units shrimp 26/30 shelled
1 bag of 454 g whole or peeled cleaned mussels
METHOD:
1. Prepare Rose Hill European fish broth following the instructions.
2. Add ingredients except fish and seafood.
3. Simmer about 20 minutes. Add the remaining ingredients and cook for another 5 minutes or until fish and seafood are cooked.
4. Put in a soup bowl and garnish with croutons rubbed with garlic, aioli and grated cheese.